The boring and unfunny self proclaimed gay "troll" Milo Yiannopoulos, whose comments on race has gained him popularity among white supremacists worldwide, resigned Tuesday from his senior editor position at Breitbart News.
Milo has repeatedly spread hateful, and dangerous anti-Black rhetoric (usually under the guise of criticizing "Black Lives Matter", which is a code that white supremacists use to mean all Black people).
This anti-Black rhetoric secured a base audience for Milo, and he received college lecture bookings, television appearances, and a book deal from Simon & Schuster as a reward for this rhetoric.
Milo was also banned from twitter after he and his alt-right supporters spearheaded a horrific racial online attack on Black female SNL cast member Leslie Jones.
As long as Milo spewed racist vitriol, the mainstream media was fine with Milo. But white supremacy is a cancer. And once you allow one form of cancer to fester, that cancer will spread and grow.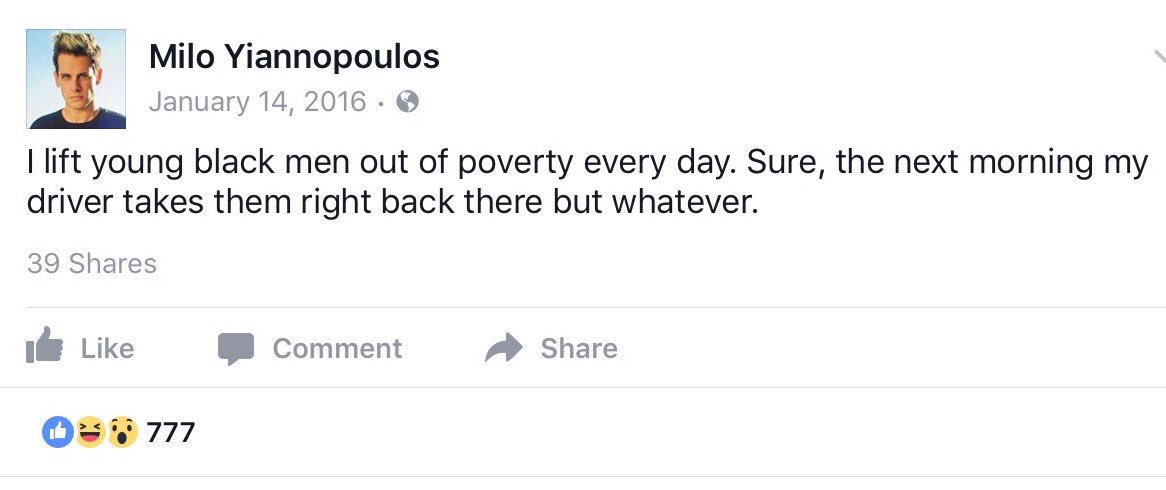 This week, several videos surfaced of Milo in which he condones sexual relations with boys as young as 13 and laughs off the seriousness of pedophilia by Roman Catholic priests. Milo's comments, which quickly created an uproar online, put many white supremacists who pretend to be conservatives in a deeply uncomfortable position. They have long defended Mr. Yiannopoulos's attention-seeking stunts and racially charged antics on the grounds that the left had tried to hypocritically censor his right to free speech.
But the pedophilia enabling rhetoric from Milo was considered to be over the line by so-called conservatives, liberals, and the media alike. Organizers of the Conservative Political Action Conference rescinded their invitation for him to speak at their event. Milo was given the boot from his editor position at the alt-right associated blog Breitbart. And Simon & Schuster canceled Milo's book deal.
So the question we must ask is, why was Milo's filth and vitriol perfectly fine when it was primarily directed at Black society?