White supremacists are using coded language on media platforms to brainstorm xenophobic schemes
By Kenny Anthony
White supremacists are constantly creating new code-words to openly further their racist agendas. These code-words are intended to create confusion among victims of white supremacy, and they're often used to manipulate the truth. When confronted with data and statistics, the last resort for a white supremacist is to engage in deflective discussions by mentioning "Black on Black crime" or "Liberals/Democrats". In addition, time-wasting white supremacist trolls usually result to derogatory racist insults and extreme death threats.
Here is a list (with photographic evidence) of the white supremacist code-words that can be found all throughout social media:
14 Words – A white supremacist slogan meaning: "We must secure the existence of our people and a future for white children".
88 – Represents the eighth letter of the alphabet (H), with "HH" standing for "Heil Hitler".
Far Right – White supremacist.
Alt-Right – White supremacist.
White Nationalist – White supremacist.
Fascist – White supremacist.
Muslims – Anybody non-white.
Looters – All Black people.
Illegal Aliens/Immigrants – Anybody non-white.
Rioters – All Black people.
Gangs – All Black people.
Thugs – All Black people.
Black Lives Matter – All Black people.
Google – All Black people.
Yahoo – "Latino/Mexican".
Antifa – Anybody willing to fight against white supremacy.
Normies – Anybody against injustice & white supremacy. Used by the "Kekistan" cult.
Snowflake –  Anybody against injustice & white supremacy (usually a white person).
Skittles – Brown and Black Muslims/people.
Reggin – A racial slur meaning "nigger", just spelled backwards.
Skype –  White people that class themselves as Jewish.
Dindus – A racial mockery/insult initially referring to innocent Black people that are wrongly convicted, and it's also a general term used for all Black people.
Western – All white people.
We Wuz Kangz & Shiieet – A racial insult designed to discredit/mock the accomplishments and advancements of Black people throughout history. They use "I'm White and I Say So" logic to refute the information.
SS – When the "SS" are shaped like lightning bolts, it represents Hitler's secret police. Commonly used by numerous white supremacist groups.
Cuck – In white supremacist culture, any white person that speaks out against white supremacy and Black oppression tends to be called a "cuck".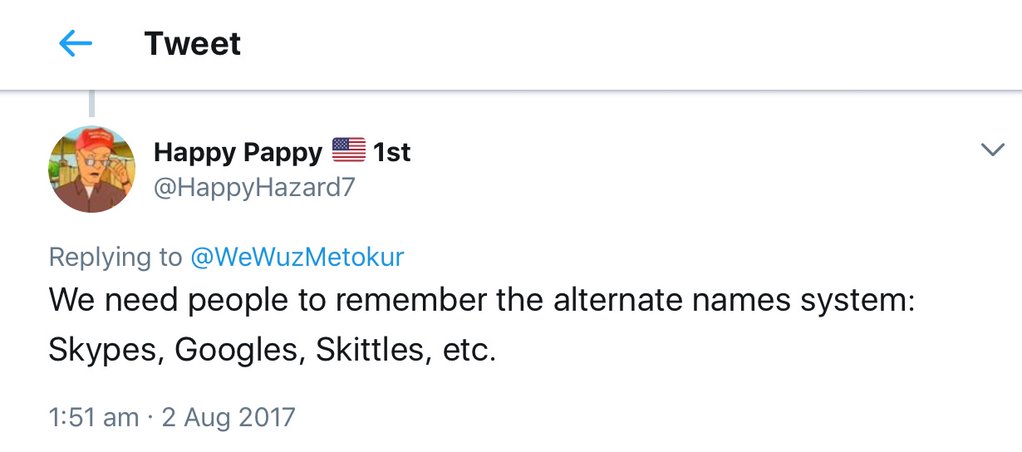 Also, it's fair to suspect people of being a white supremacist if they use Pepe The Frog memes because it's now an official hate symbol.
This list is designed to make the process of identifying a white supremacist uncomplicated and effortless. However, it's important to note that somebody could still be a white supremacist even if they do not subscribe to these specific code-words. This calls for us as Melanoid people to be attentive and socially aware. At this current moment, white supremacist domestic-terrorist groups are using racial tensions as ammunition to recruit members. To ensure that they lose this war, we must consistently be prepared and organized.
Our advice: Be alert, connect with like-minded Melanoid people, do not let your children go outside unsupervised, and exercise your Second Amendment.