PICKERINGTON, OH — After two excruciating years of fighting with her daughters' high school, LaRhonda Cook-Snow had enough. Ms. Cook-Snow, a Black woman who enrolled her two daughters in Pickerington High School North a couple of years back, says that her daughters are coming home to her crying on a regular basis.
The reason for her daughter's grief? Constant racial remarks and gestures from the school's white students.
"Some of the students think it's okay and think it's funny to say the N-word, say jokes about it," says Roni Cook, one of LaRhonda's two daughters. Roni, who was a member of the school's cheerleading squad, eventually quit due to her being called a "nigger" by one of the white cheerleaders.
Pickerington High School North's white students have spotted Snapchatting themselves dressed in a KKK uniform (as seen in this story's featured photo), and one of the white female studnets posted a picture of herself on social media in blackface with a racial slur in the photo's caption, which can be viewed below.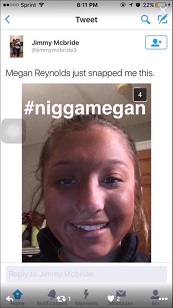 In lieu of the notoriety that the school has received for allowing its white students' racist behavior to go unchecked for an extensive period of time, officials have implemented "sensitivity training" to attempt to convince white students to 'get along' with the Melanoid students of the school. Here is more on the sensitivity training in the following video clip.
For more on the Cook Family's account of being harassed and taunted by the white students, watch the video in this link.
B. Clark