Surviving this Rahowa and Creating a System of Justice
Written by Tiffany Tubman
August 16, 2017
Today was an eventful day as we observed the shifts in the Trump Administration stance during and leading this Rahowa, Racial Holy War, in America. The purpose of this war is to execute an ethnic cleansing and rid the land of all non-white people and Jews based on the ill-informed and delusional belief that the white race is superior to all other races on planet earth.
The status of where all non-white people stand in the US currently lead by Donald Trump was evident today in his remarks. As he again changed his position in a hostile and hate filled press conference today, the authoritarian leader continued to used white supremacist coded nonverbal and verbal signals to support his extreme followers without condemning or punishing them in anyway. Trump said that, white nationalist protest included "some very fine people".
Image of "very fine people" that Trump identified. However, all Melanoid people have identified these people as Domestic Terrorists and emboldened white supremacists.
As Melanoid People, we had no expectations from Donald Dumbass Trump. He has a history of white supremacy, bigotry, and unjust practices against Melanoid People. We can only assume that by design and/or denial, so many others have missed this fact.
Trump's Business Logo- A Swastika in the Negative Space (First). Traditional Swastika (Second).
More WS code exposed.
---
Per the FBI and DHS, "White supremacists 'were responsible for 49 homicides in 26 attacks from 2000 to 2016…more than any other domestic extremist movement'." Based on this fact alone, a reasonable person could presume that the white nationalists event planned in Charlottesvile, VA for August, 12, 2017 would be violent and deadly. As a matter of fact, the leaders and organizers of the event knew. As a result, before attending the rally, all leaders and organizers from 14 alt-right organizations took out insurance policies.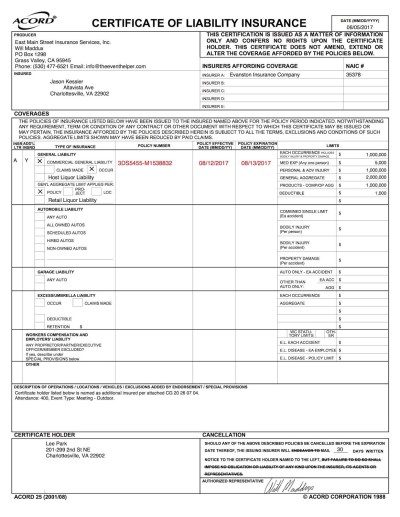 ---
As the day progressed, Trump's manufacturing committee to build infrastructure within America continued to fall apart. To date, 10 companies have withdrawn their support. Six of the 10 came after the violent events in Charlottesville, after Trump failed to condemn the racism and domestic terrorism while making attempts to unite the country.
The remaining companies are being asked to withdraw support as well as the call from all normal members of society to impeach Donald Trump.
Here's the list of remaining companies to Trump's manufacturing committee. The ones that have already left are in red. #BoycottWalmart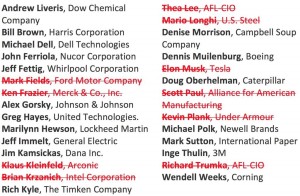 We will continue to provide updates and remove companies from the list on as new information becomes available. When stories are updated, I will add "Update" to the title and tweet out the link. Until a company is removed from the list, please do not patronize or publicly support the company in any way.
Partial list of products/people to avoid until CEOs #QuitTheCouncil:
-Post-its
-baby shampoo and lotion
-jacuzzies
-forklifts
-747s
-chunky soup all Campbell's soup
-Trump
Although Walmart is not listed as a part of this council because it is not centered in technology or manufacturing, Walmart's CEO, Doug McMillion, released this statement criticizing Trump but pledging his support:
Walmart went as far as thanking Trump for representing their company and values today and every day. #BOYCOTTWalmart
Family, you cannot have it both ways. If you support someone, you stand behind them. If you condemn them, you walk away. We are no longer listening to words, we will only judge intent based on actions. Based on the actions of Walmart, we are calling on a full boycott of Walmart. If you have anything recently purchased from Walmart, with tags and a receipt, take it back and demand a full return of your money. Do not spend one dollar with any company that does not value our group.
This includes the silent Asian community. We have not seen one nail shop or beauty supply store lining up to condemn Trump. As such, please do not spend one dollar in their community. We are asking the Melanoid Nation Family and Supporters to shop at Target, Amazon, or any company that has publicly distanced themselves from Trump.
Tiffany Tubman
Twitter: @montswife16
Email: TubmanFights@gmail.com
Questions Submitted: (This is long)
"What is Antifa? What is the difference between Antifa and the Alt-right? Are they all white supremacists?
Antifa is short for Antifascists. They oppose white supremacist and fascist organizing in the US via regional offices through education, confrontation, and building a grassroots culture of resistance. Antifa openly opposes sexism, homophobia, anti-trans bigotry, and all other forms of oppression. We want a classless, free society.
Antifa is against the alt-right who openly hates about every group outside of the white male. Some of the alt-right groups will allow white women, however all of them have a weight requirement. Regardless of height, you must be under 140 pounds. Antifa openly accepts any member dedicate to their cause; however, majority of the members are not Black.
Lastly, are they all white supremacists. The short answer, yes. Listen, I know this truth hurts. But I am sent here by the Ancestors to give you this knowledge, wake you up, keep you woke, and create this system of justice.
My response is based on these facts, all white people (whether knowingly or unknowingly) are complacent in white supremacy. Main stream media uses this term as a noun (person, place, or thing) but for the Melanoid Nation family, we use this as a verb (describing an action or event). Follow me.
Antifa opposed the noun, we oppose the noun and the verb. You must accept the principles of white supremacy. Always keep in mind that ALL white people are racist. This does not mean all white people hate black people. Racism has nothing to do with emotion and it is totally based on policies, economics, and control of resources. Racism is merely a currency of power. Because all white people benefit from white privilege (voluntarily or involuntarily) they will voluntarily abandon or give away white supremacy/racism.
How hard would be have $50,000 in your savings account and walk up to a total stranger with a smile and give ALL that money away? If easy, go ahead and hit my PayPal up. If not so easy, keep reading.
To have white privilege, you must have Black oppression. This ensures and protects white supremacy. Racism is not personal, it is business. As Melanoid people, we must stop playing and think business. A white person can be nice to you and want to help you, but it is not about you. This is about the group. The system and code of the system is ruthless, immoral, deceptive and cunning.
At the end of the day, they want to keep that money. The flaw in the system is it only works if BOTH parties uphold it. Which is why, we as Melanoid people cannot count on Antifa to save us. There is no white savior. (Not even Jesus, but I will hold that one for you.) Melanoid people must begin the process of Breaking the Willie Lynch Syndrome and getting over the Stockholm Syndrome the disease of white supremacy leaves behind.
Simplistically, we must value ourselves and our Melanoid family as much as White people value their group WITHOUT allowing how any other group perceives us to shape that value. To do that, we must give white people exactly what they give us. No more no less. Treat it as you would your business or savings account. That is the code.
You cannot change a system. There is no changing the system of white supremacy. It must be destroyed so that a new system of justice can be created.
If White Supremacy is a disease, what is the cure?
Think of White Supremacy as a disease that has been passed down from generation to generation. Like must mental illnesses, it is difficult to see, diagnose and understand. But there is a cure for all white and non-white people suffering under this unjust and sick system.
Speak truth to power. Call person, places and things exactly as they are. Do not sugar coat any part of any conversation. You can be professional, respectful, and honest all at the same time. Awake you inner African.
Uphold social responsibility and serve or jury duty or in your community as if the people involved as defendant and victim are BOTH in your bloodline.
Do not create laws that oppress other groups and do not abide by laws that oppress you.
Have a moral code. Because white supremacy is amoral, you are already half way there. Once you practice all these things, you have destroyed the system of white supremacy and conquered the disease.
To keep it from returning, we must create justice which will involve reparations and economic empowerment within the currently oppressed communities.