COLUMBIA, S.C. — It has been announced this morning that Ben Fields, the white cop who assaulted the Black teenage girl in Spring Valley High School, has been fired.
Richland County Sheriff Leon Lott spoke at a news conference in which he addressed the incident. According to the video in this link, Lott says that Fields has been placed on suspension without pay, and that he has asked the FBI to look into the investigation. He says that the student was "disruptive", and that "she started" the confrontation with Fields.
Although Fields has held an extensive reputation for being a race soldier in the past, it has been revealed–or contrived–out of nowhere that he has been dating a Black woman "for quite some time", according to Lott.
Many suspected white supremacists and Black supporters of Ben Fields say that the race soldier had every right to act in the way that he did because the young girl provoked him to use brute force against her. However, new information has surfaced which should have us questioning the supporters of Fields. The photo below is a screenshot of a social media post which delves into the personal life of the child who was beat up by the cop on Monday:
It appears to be likely that this young girl was simply "acting out" in class on Monday because of a tumultuous year which has inflicted enormous emotional and psychological damage on her. It is well-known that victims–especially children–who suffer from such trauma usually engage in what's known as "rambunctious" behavior because they often are unable to cope with everything that has happened to them.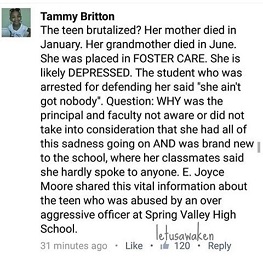 B. Clark