By Amy Lukau
The city of Paris is finding itself in a state of chaos since news broke of a black man assaulted by French police two weeks ago.
Recounting the incident, Théo, a 22-year-old man said he left his house Thursday and found himself in the middle of a police identity check. These check are used to target drug dealers.
What proceeded was not a standard routine check, Théo's pants were pulled down and he was sexually assaulted with a truncheon. He was repeatedly beaten on the head and around his genital area; the police also sprayed tear gas around his head and mouth.
Since that time he has undergone emergency surgery for his injuries and has been declared unfit for work for 60 days. Théo is still being hospitalized.
The four police officers involved have all been suspended and an investigation is underway. One has been placed under formal investigation for suspected rape and three others for unnecessary use of force. All deny wrongdoing.
French police are often accused of using excessive force especially against black and minority ethnic suspects.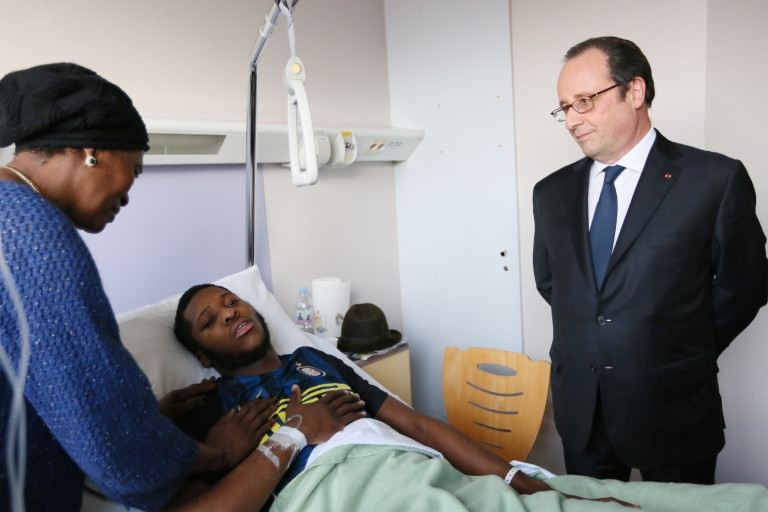 Photo: French President Francois Hollande visiting Théo in hospital.
Protests have since erupted in Paris with property being destroyed and roads being blocked, prompting Najat Vallaud-Belkacem, the education minister to appeal for calm, saying: "Young people's emotion over the Théo affair is understandable, but we must let justice take its course." Violence is "unacceptable."
However, the movement is being sustained across the country, with school protests continuing to happen in a move of solidarity.
"The climate in France is becoming more and more worrying," Independent Counter-Struggle Movement, a youth group that organized the protest on Facebook, said in a statement. "A great mobilization of youth is more than necessary to counter the security and racist climate."