MENLO PARK, CA — Because of the enormous scrutiny that this company has faced over the past week, Facebook has opted to change its sign, which is located at the campus entrance.
The social media giant, which found itself in hot water after it was revealed that its employees were crossing out "Black Lives Matter" (and replacing the term with "All Lives Matter") on the headquarters' signature wall, has been a hot button issue as of late.
Facebook Founder and CEO Mark Zuckerberg stepped forward to order his employees not to make such changes to the signature wall, citing the following statement which was included in a company announcement letter:
"I was already very disappointed by this disrespectful behavior before, but after my communication, I now consider this malicious as well"
For more on Zuckerberg's written statement regarding his employees' anti-Black gestures, please view the following photo.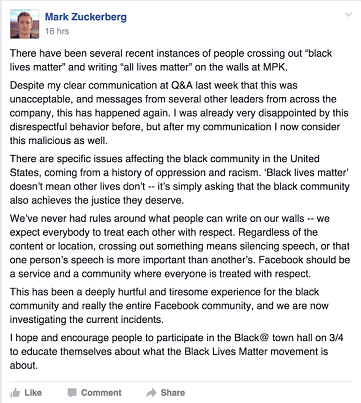 As expected, the controversy surrounding this issue prompted many to take yet another look at the minuscule amount of Black employees who work for Facebook. This is perhaps one more case of the systematic exclusion of Black tech professionals from Silicon Valley. As seen in this story's featured image, Facebook has changed its sign to be decorated with a traditional African tribal-themed print.
To get a glimpse of how the regular Facebook greeting sign looks, view the image below.
In spite of Zuckerberg's attempt–albeit a contrived one–to smooth over his company's image (as it pertains to Black people), many are not convinced. In recent months, it has been shown that many Melanoid people with a large Facebook following have witnessed their accounts be suspended when using their accounts to address specific Black issues, which is a stark contrast to the countless white supremacists who have used their Facebook pages to spread and cosign anti-Black–and often violent–rhetoric, which often goes unpunished.
In order for Black Society's social media experience to remain fair and enjoyable, a solution has presented itself, which will prove to ensure just that…a fair and enjoyable social media experience; free of harassment and trolling by white supremacists.
For more on this solution, please follow this link.
B. Clark