In a system of white supremacy, oftentimes many Black people are desperate for any type of praise and accolades from those in the dominant society. And when certain people classified as white pretend to give Black people props, many Black people will lap it up without verifying the sincerity of it.
Recently Ebony Magazine posted a story on it's website about a white male HBCU student Russell Schiller. Schiller createda hashtag entitled #BlackWomenAreGorgeous, and the Wisconsin native claimed he created the hashtag after becoming increasingly frustrated with other cultures appropriating the features and styles of African-American ladies.
"I thought it was only right to start something that all people can see where the credit belongs and how truly beautiful the culture is. It's a true passion of mine," he explained. He even made a video explaining his "love of Black women" campaign.
The story was originally posted on the website BeyondBlackandWhite.com -a site that is known for  Black women who specifically seek out white males to date. Many people have labeled websites like Beyond Black and White  (and the new reincarnation of Ebony magazine for that matter) as "Negro Bed Wench" forums. Negro Bed Wench is a term that describes Black women who specifically date white males and are willing to sabotage any type of Black progress in order to please white society.
Ebony picked up on the story and they were singing the praises of this white knight in shining armor who publicly professed his appreciation for Black women. But when people researched Russell Schiller and his social networking sites, it turns out that he is a blatant white supremacist. On his twitter page, he repeatedly uses the N-word. And he seems to subscribe to many of the same "selling dope" and other stereotypes attributed to Black society. Here are some of his tweets: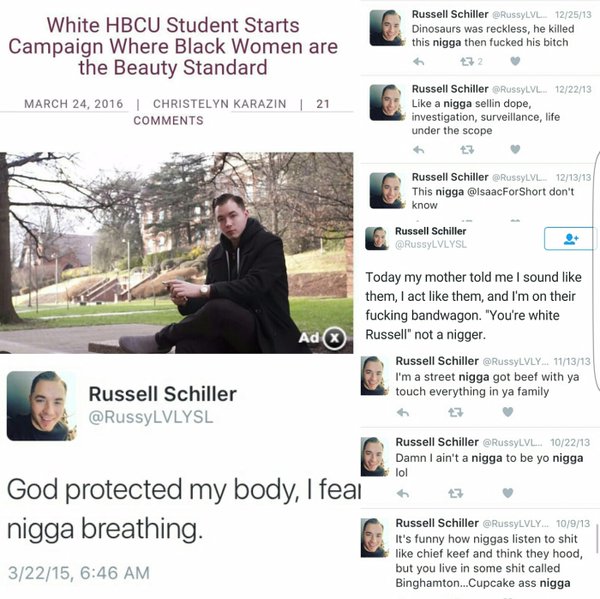 People have pointed out Schiller's racist rants to the staff at Ebony, but the magazine refuses to take down the post. So this just goes to show that magazines like Ebony have reached such a low point, they are willing to praise white supremacists for giving Black women  "compliments" no matter how insincere the compliments are.