A racist craze is gaining social and political momentum through social media
By Kenny Anthony
Kekistan is a degenerate social-engineering white supremacist cult created by 4chan users. One of the early promoters of Kekistan is a suspected racist YouTuber named Sargon of Akkad. Many would say that he's responsible for its popularity, specifically for its emergence on Twitter.
One noticeable aspect of Kekistan is their obsession with anime and Pepe The Frog. The character has become so tainted by racists that the Anti-Defamation League were forced to list it as an official hate symbol. Ironically, Kekistan get their name from an ancient African deity (which they allegedly worship), named: "Kek".
Stealing and claiming African inventions is unquestionably the norm in the system of white supremacy. White supremacists have relentlessly used cultural appropriation as a deceptive mechanism throughout history, and unfortunately the cycle continues today. It must be mentioned that aside from being extremely xenophobic, "Kekistanis" are devoted to online trolling. This explains why they revere the writing on the Kek statue, which has been interpreted by them as a person sitting in front of a computer-desk. It somewhat symbolizes their agenda, one that's centred around harassing and attacking anybody that is anti-white supremacy. For centuries, white supremacists have used deception as their primary tool to completely subjugate Melanoid people.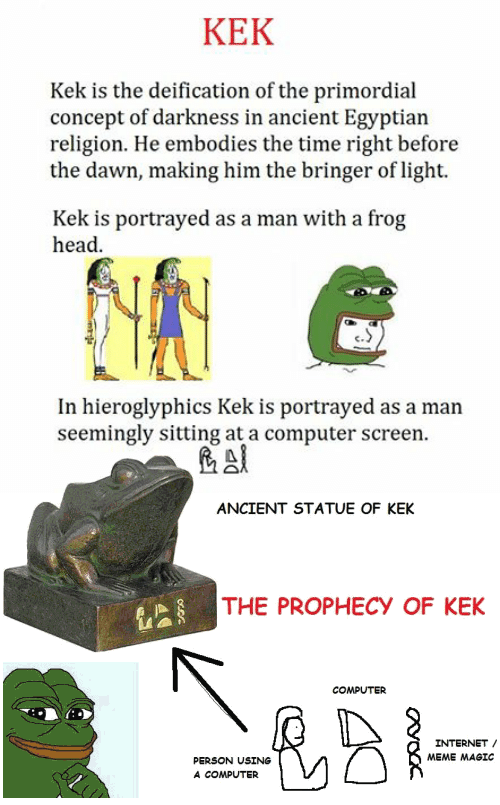 A key principle of Kekistan is "Meme Magic", which is an idea that can only be achieved through social media. The goal of Meme Magic is to make political agendas come true by excessively sharing memes, no matter how illogical or racist the memes may be. This concept was used numerously by European terrorist & dictator, Adolf Hitler. He (Hitler) once stated: "If you tell a big enough lie and repeat it frequently, it will be believed". It is fair to say that Kekistanis are greatly inspired by 20th century Nazi propaganda. More importantly, white supremacists claim that Meme Magic was used to create the deplorable Donald Trump fanbase, and they say that Meme Magic is what helped him get elected. Although, at the time of his presidential campaign, white supremacists dismissed this notion. Instead, they called it a "harmless joke" which "shouldn't be taken seriously". From the Ku Klux Klan to Donald Trump becoming the president, history has taught us to never ignore or disregard anything a white supremacist portrays as a "joke". Especially since Kekistan members were seen promoting Nazism at the "Unite The Right" domestic-terrorism riot in Charlottesville, Virginia.
(Below are pictures of Neo-Nazi white supremacists with Kekistan-esque flags on the top left side of their shirts, while they march and do the Hitler/Sieg Heil salute).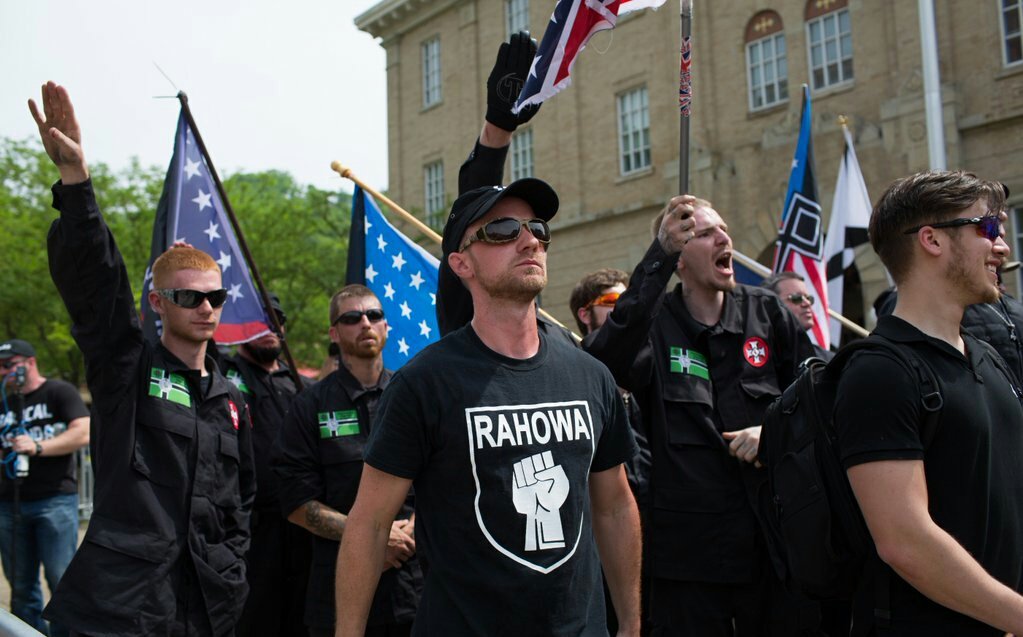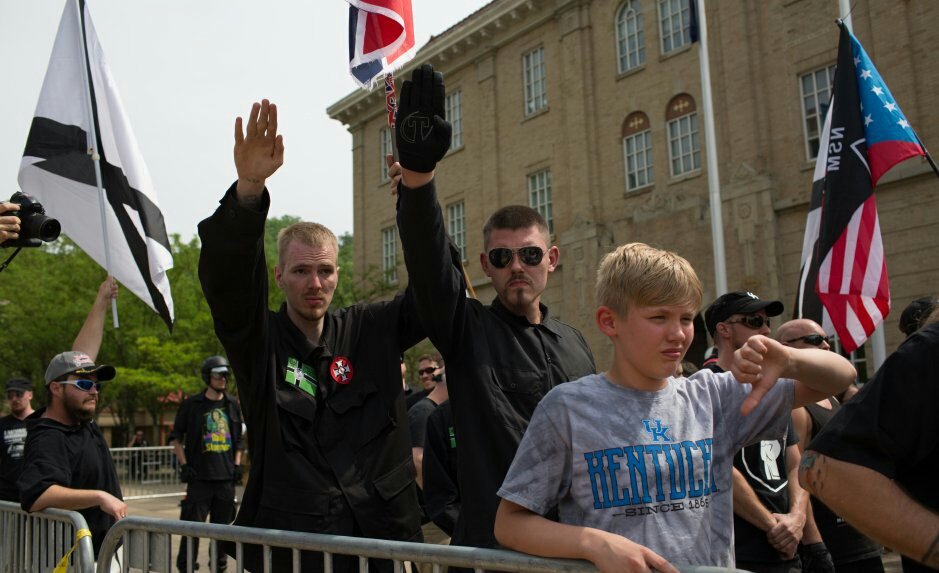 This brings us onto the Kekistan code-words which you may not be aware of. They call people that are against white supremacy "Normies", and they preach that Normies belong to another fictional country called "Normistan" and sometimes "Cuckistan".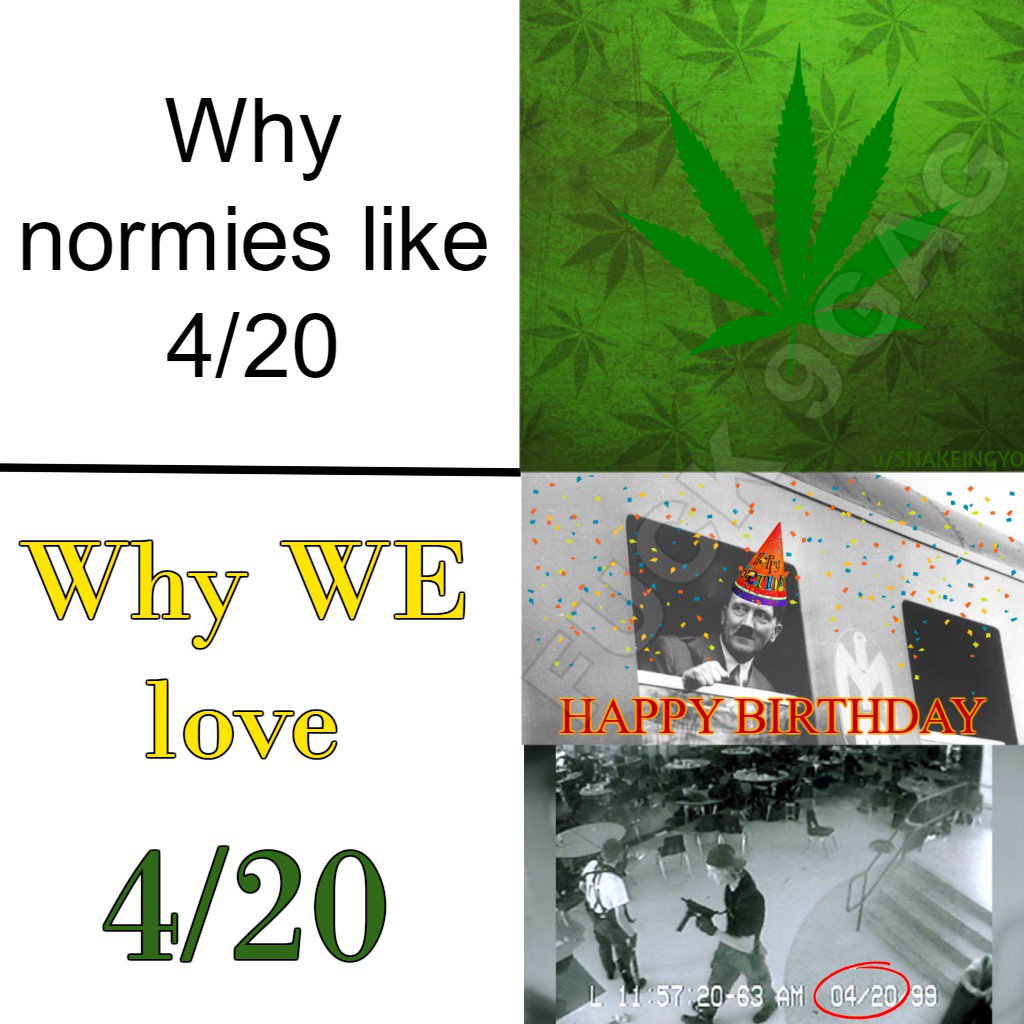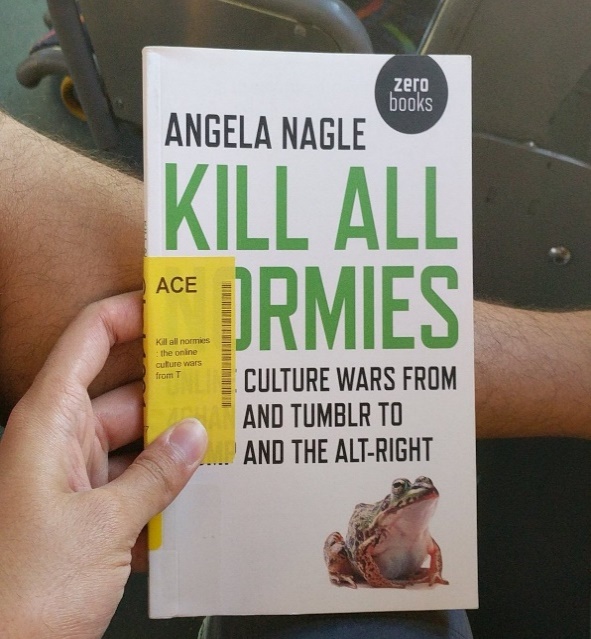 The name (Cuckistan), is a play on the porno word "cuck", which is an emasculating slur commonly used by white supremacists. The term is usually applied to a white male that enjoys watching his girlfriend, wife, sister, or mother, enagage in sexual affairs with a Black male. Also, any white person that speaks out against Black oppression and wants equality, tends to be called a "cuck" by white supremacists.
Another popular term in their community is "Snowflake". A term from the days of World War II Germany, used by Nazi soldiers when referring to the remains of those incinerated in concentration camps. This is not surprising because after careful investigation, research has shown that Kekistan are affiliated with "Alt-Right" Neo-Nazi, Richard Spencer.
For those that are unaware, Richard Spencer not only throws the Sieg Heil (Nazi salute) at his rallies, he also promotes Black genocide and white racial superiority based on pseudoscience & ahistoricism. He (Richard), has publicly used Kekistan to support his ideas, which only solidifies the claims of this being a white extremist movement.
In modern times, credible historians admit that there were Jewish people helping Nazis conduct the Holocaust. Today, there's an abundance of non-white people collaborating with systemic white supremacy. In the Kekistan cult, there's a Black man who goes by the name of "Big Man Tyrone", and he is referred to as the president of their white supremacist "country". On his YouTube channel, he spends his time regurgitating Fox News talking-points in a dim-witted fashion.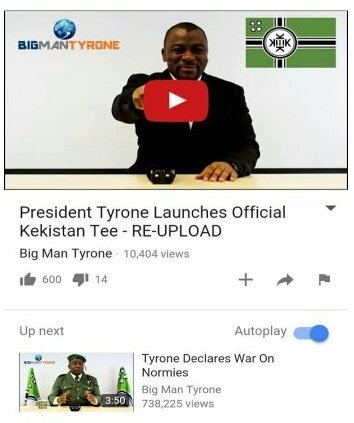 Though this may sound odd, what must be remembered is that Barack Obama was once president of the most racist nation to ever exist. Many speculate that Mr. Obama's presidency was a ploy to create the illusion of a post-racial society. One that was designed to manipulate and desensitize the masses, so that when blatant acts of racism occur, there's a lack of outrage & immediate dismissal. This would explain the disingenuous camaraderie that Kekistani white supremacists have with Big Man Tyrone.
In conclusion, Kekistan is a terrorist group governed by white supremacists. Their basis is online trolling, racism, separatism, harassment, violent protesting and Neo-Nazism, while downplaying their racism by passing them off as "jokes".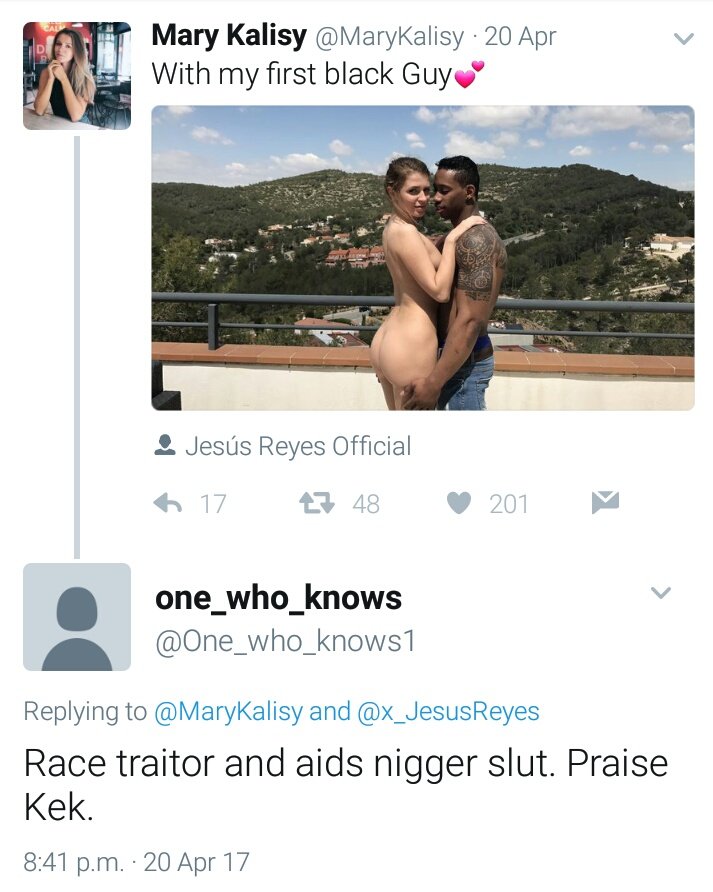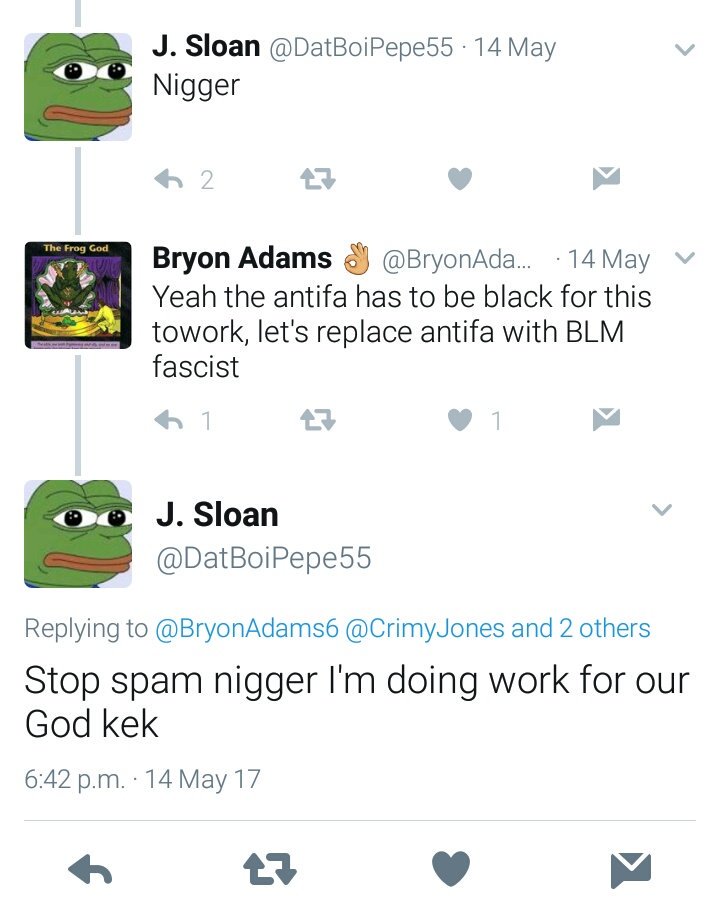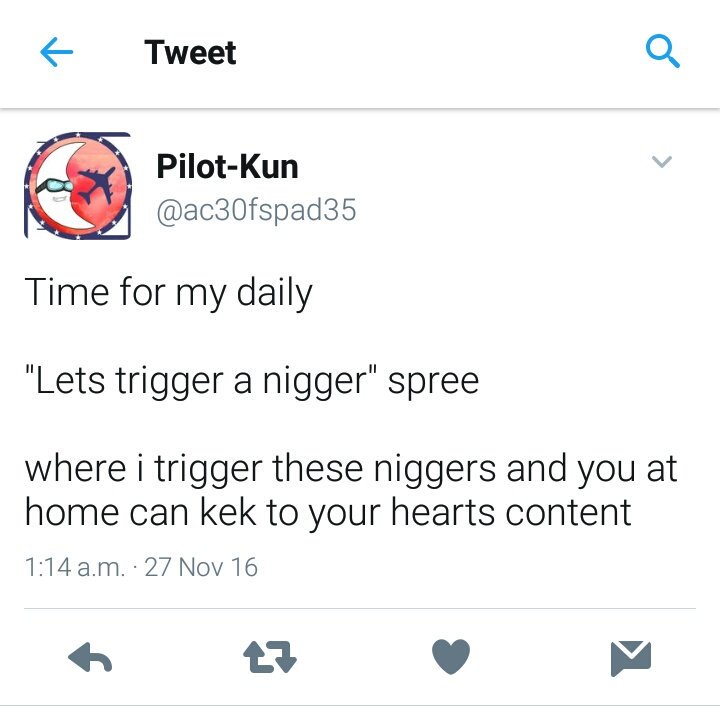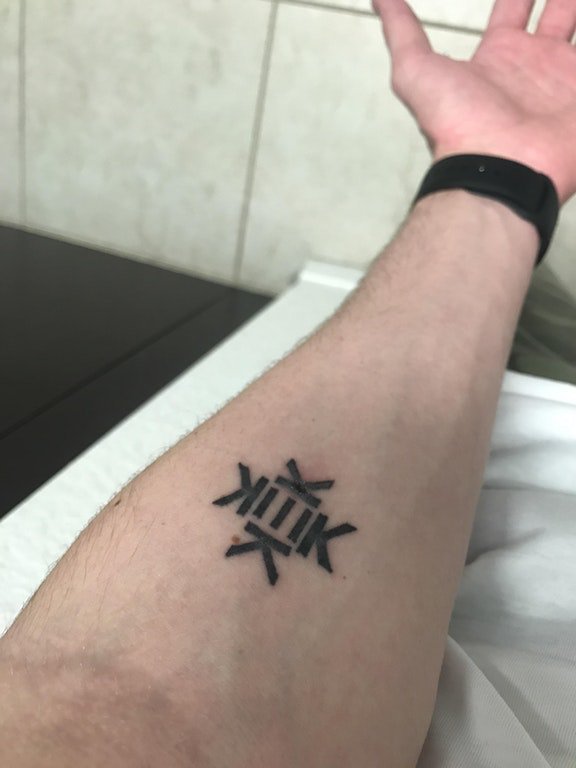 Kekistan are heavily linked with the "Alt-Right", which makes them a significant threat to the safety of Melanoid people worldwide.
Our advice: Be alert, connect with like-minded Melanoid people, do not let your children go outside unsupervised, and exercise your Second Amendment.