An alt-right suspected white supremacist named Tim Gionet, who goes by the online name "Baked Alaska" was recent caught lying about a stabbing attack on his bodyguard. Several of Baked Alaska's suspected white supremacist associates and supporters shared a story online that Antonio Foreman, an Alt-right cohort, was stabbed in a "racial attack" because he was a "conservative" and a "Trump supporter".
Several right wing, fake news, and pro-white supremacy websites reported this lie repeatedly, and they also included a lie that the suspects were "Armenian gang members". Gionet also claimed that a Los Angeles Police detective told him the last thing Freeman heard before blacking out following his attack was, "You're getting the shank white boy."
After the Alt-right supporters circulated the false narrative that Foreman was injured in a "racialized attack by non-whites because of his pro-Trump views", they immediately put up a crowd funding page to capitalize from the race baiting. But the truth is, there was a stabbing, but evidence shows that the entire incident was instigated by Antonio Foreman, and it had nothing to do with race, Trump, or Foreman's "conservative" views. Its appears that the suspects did not even know who Foreman was.
According to the Washington Post:
Police said the altercation began at a pay station inside a Santa Monica parking garage Saturday night.

Edgar Khodzhasaryan and Arsen Bekverdyan sat in one vehicle. Behind them, Antonio Foreman — a bodyguard for an alt-right figure with ties to the Oath Keepers — sat in another. At some point, as the men attempted to exit the garage, an argument began, which was followed by "a minor traffic collision," a Santa Monica Police Department spokesman said.

The vehicles continued down the street near each other until Foreman's vehicle stopped abruptly in front of the other vehicle, police said.

"The victim and suspects exited their vehicles and confront[ed] each other in the roadway," police said. "One of the suspects stabbed the victim and a fight ensued during which the victim [was] stabbed multiple times. The suspects returned to their vehicle and fled the location."
And the Los Angeles Times reported:
Gionet, who said Foreman sometimes works for him as a bodyguard, told his more than 175,000 Twitter followers that the assault was politically or racially motivated. Foreman is an ardent supporter of President Trump, and had been leaving an event in support of the president when he was attacked, Gionet said.

Law enforcement officials flatly dismissed the claim.

Prosecutors did not file a hate crime enhancement with the charges, Ardalani said. Lt. Saul Rodriguez, a Santa Monica Police Department spokesman, said the attack was spurred by an argument.

"There's nothing here that would lead us to believe it was targeted or a hate crime or anything like that," Rodriguez said.
The alt-right websiteThe Gateway Pundit  initially reported the "Armenian gang member" lie. But when all the facts came out, they had to retract the lie that they helped spread.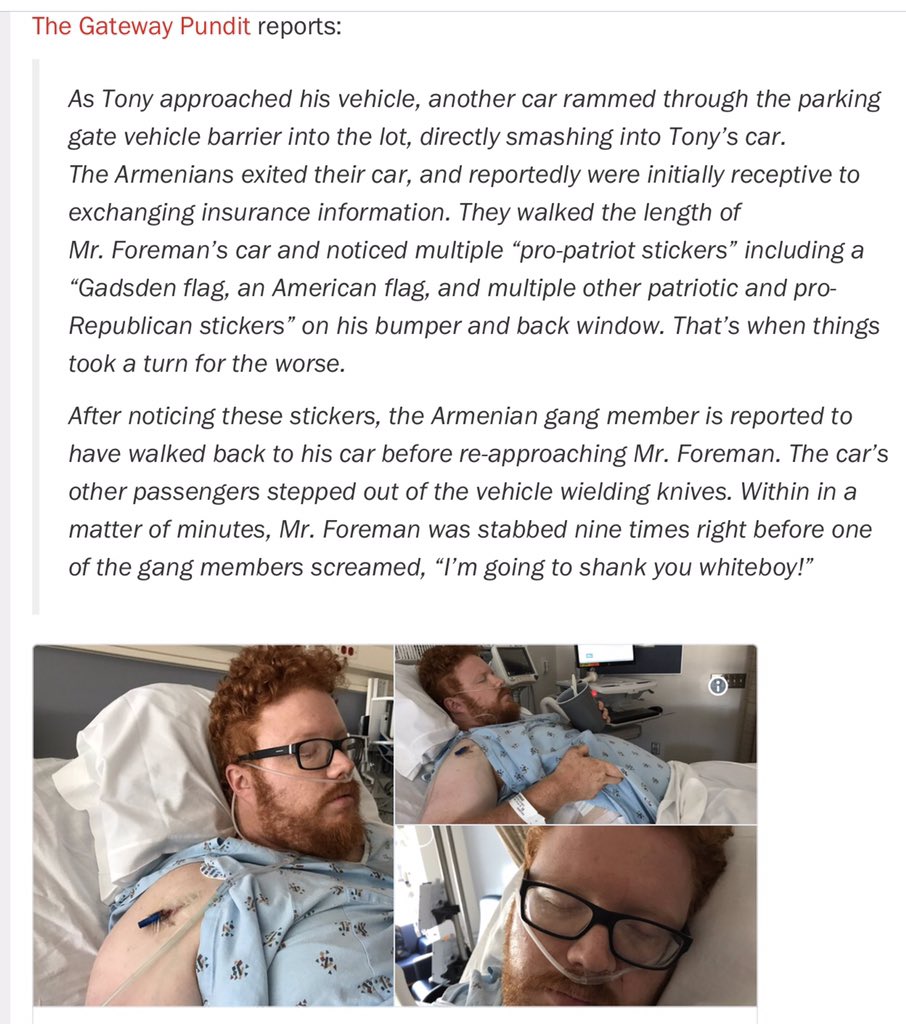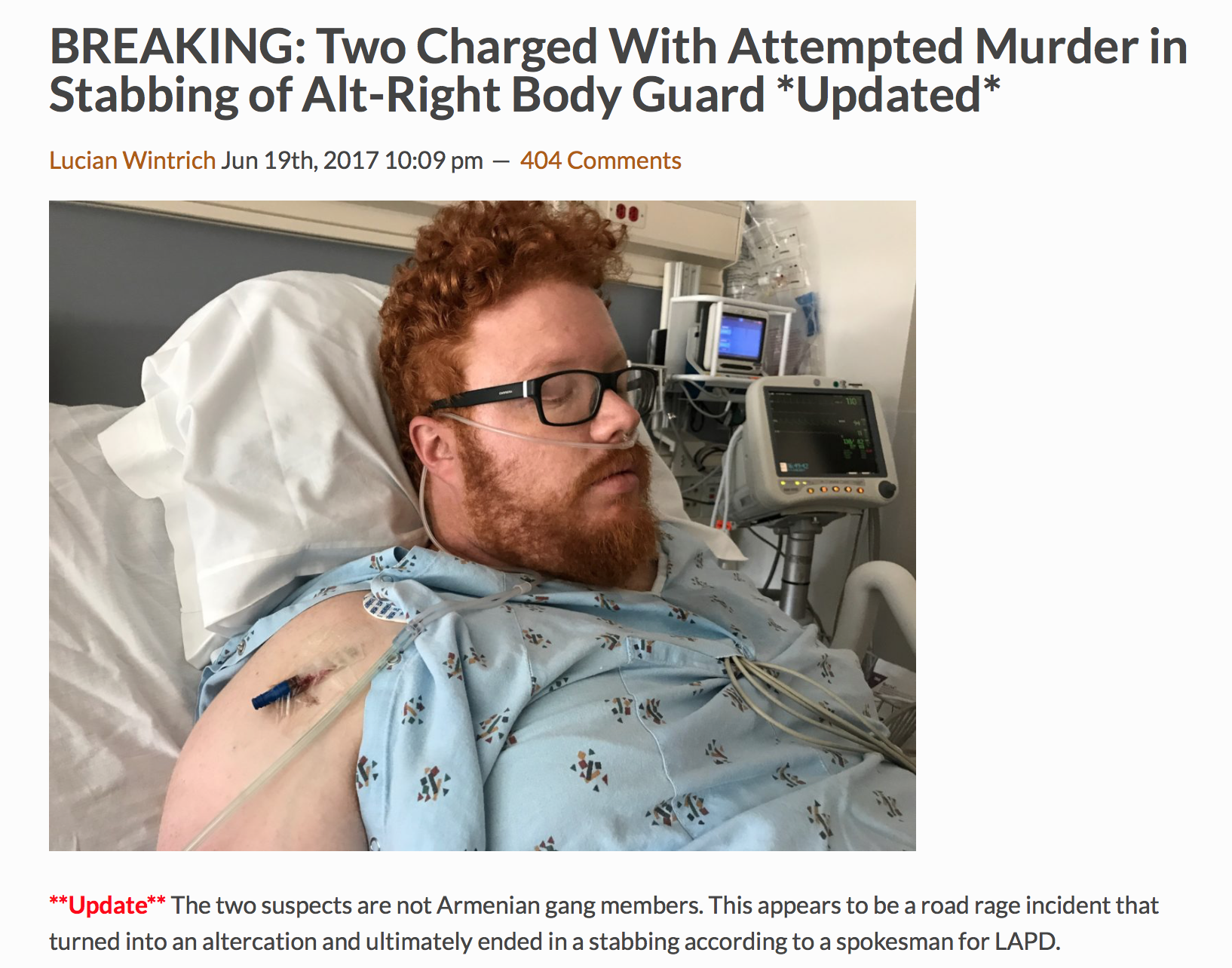 Many people online knew that the "racial attack" angle of this story was false for several reasons. For one, most Armenians are classified and identify as white in the United States, so that would nullify any "racial" motivation.
Second, there are no Armenian "gangs" in Los Angeles in any real significant numbers (outside of the Armenia Power organization out of the Glendale area, who are more known for racketerring and not violent attacks).
Also, many Armenians are huge Trump supporters in the Los Angeles area. So many people knew that racial angle was a farce to squeeze a few dollars out of gullible Alt-right supporters.